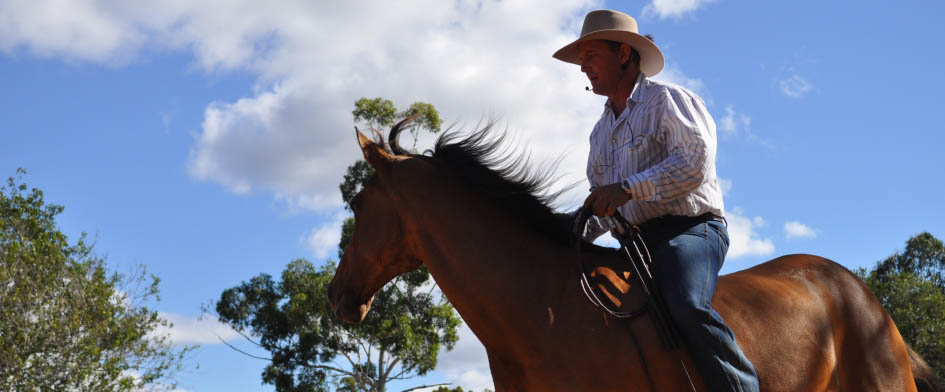 The Horseman's Path at the Maryborough Showgrounds
March 3, 2016 – March 6, 2016
April 15, 2016 – April 17, 2016
April 22, 2016 – April 24, 2016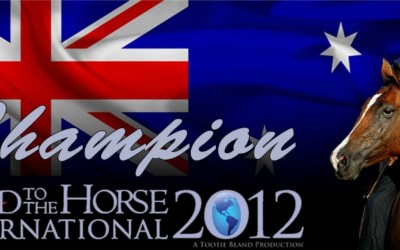 Mufreesboro, TN.  By Holly Clanahan for America's Horse Daily. Aussie, Aussie, Aussie … oi, oi, oi! That Outback spirit was alive and kicking in Murfreesboro, Tennessee, as Australians Guy McLean and Dan James won a hard-fought battle at Road to the Horse 2012,...
read more
Archive – News Articles & Media Releases
An excerpt of the poem "Ride for Pride" by Guy McLean
Monday 22 June 2009
I had visions of what I'd be wearing
And quite involuntary, I started to sweat
Pink jodhpurs and boots with pink tassels
And truly I began to regret
My decision to go to the Outback
Where tough is tough and men are men
And look like a mardi-gras entrant
Mate, I'd never be welcome again
And what if it got to the papers
'Guy McLean, looking pretty in pink'
Worse than that, on the TV
Oh it made me shudder to think
So I said, "Oh, I ah am really quite busy
That weekend I'll be washing my hair"
Then I was told that only a shirt of bright pink
Was all that I had to wear
Please click here to visit the Australian Stockman Hall of Fame website to read the rest of the poem and check out the photos from the wonderful weekend raising money for the NBCF.
GUY McLEAN & CARLOS TABERNABERRI OFFER SUPPORT FOR ONLINE BRUMBY SHOW
Tuesday 19th May 2009
Please click for link to original online article >
Sandy Radke, Australian Brumby Horse Register writes:
Horsemen extraordinaire Guy McLean and Carlos Tabernaberri are generously donating great prizes for our first Online Brumby Horse Show to be held later this year.  That means that some lucky ABHR members – and their Brumbies – will benefit from the experience, character and wisdom that is contained in the  DVD's and books that these two great horsemen are generously giving us as prizes.
In responding to ABHR's request for help, Guy said "I hope to come back from my trip to America and do something about the brumbies being shot in the mountains and people wanting to get rid of them. "      Wistfully he told me that " it would be such a shame if my grandkids couldn't ever see a wild brumby……I would love to be able to help you out – it is wonderful what you are doing, congratulations."
Carlos is also a great supporter of Brumbies and in late October this year, he will be holding a clinic at Save the Brumbies' Mountain Thyme Brumby Sanctuary near Bellingen on the NSW Mid-North Coast.   While the clinic is open to all horses, Jan Carter of Save the Brumbies is particularly keen to promote the clinic for re-homed Brumbies.  You can contact Save the Brumbies via our Links page if you are interested in the clinic.
ABHR is currently seeking a range of sponsorship for our first Online Show which we hope will be attract a lot of interest from Brumby lovers and the public at large. Anyone able to help, like Guy and Carlos, please contact Sandy Radke via the ABHR website:http://www.abhr.com.au/
Sandy Radke, 19th May 2009
THE SONS OF THE SOUTHERN CROSS PTY LTD
Guy McLean announces The Sons of the Southern Cross Pty Ltd at the Caboolture Urban Music Festival, the official collaboration of Guy McLean and Simon Knight, taking horsemanship and the Australian Stock Horse to the world:
To receive more information, please email Sara Vuori ([email protected]).
WARRENBRI ROMEO'S LASS FIRST PERFORMANCE COMING UP
Warrenbri Romeo's Lass will be at her first show – at Rockhampton Beef Week in May 2009. Warrenbri Romeo's Lass is by Warrenbri Warrego out of Warrenbri Pamela (Mt Hope Zorro out of Warrenbri Alexis) and Guy is extremely excited about her progress.
LATEST POEM IN PRINT – AUSTRALIAN PERFORMANCE HORSE MAGAZINE
"And when life is at its darkest
And there seems no end in sight
It calls for the hero that's inside us
To stand up, to strive and fight"
The Heroes poem, written by Guy McLean, inspired by the tragic Victorian fires and North Queensland floods is printed in the latest Australian Performance Horse Magazine – April/May 2009.
ALL STAR CLINIC – GUY McLEAN
Pic/Story Berni Saunders www.cyberhorse.net.au/tve
What do they have in common and where do they differ. The All Star Clinic is a unique gathering of experts in 7 disciplines – all coming together, under the same umbrella to share ideas. Each discipline involves it's own unique and particular ways of doing things in order to achieve its specific goals from the ascetic of dressage to the practical skills of chasing a ball, a beast or leaving the rails up after jumping them!In this clinic veteran presenter, Richard Weis, will use the best horses and riders available in each discipline in order to uncover and demystify the essential elements … from selecting the horse and gear. The demands of modern equestrian sport means that most disciplines rely on purpose bred horses and expecially designed and manufactured equipment. Richard will also explore the specific training and riding techniques which make each aspect of each discipline quite unique. Richard Weis, the All Star Clinician reported in on the plans for this very special part of Equitana 2008 and said, "I just had a great talk to Guy McLean about his involvement in the All Star Clinic. These Ozzies are a humble lot. He is very excited to be part of such an All Star event. Hasn't anybody told him he is one of the best horsemen around? I don't know anybody who gets better cooperation form a horse; you have too, to get out in huge crowds and huge atmosphere with out a saddle and bridle. Is it just my memory playing tricks or did I see him standing up on the horse he started in the Way of the Horse Competition cracking a stockwhip. The horse was standing on a blue tarp itself trying to believe an hour or so earlier it was wild. Needless to say he won that title." Richard added, "Guy has a very fresh take on training. He reckons the reason he rides is 'he wants to feel better than he can on his own legs, stronger, faster, and braver more powerful more manoeuvrable. The horse he'll ride in the All Star Clinic Quietway Spinabbey gives him that feeling plus. Guy hasn't found a movement from any discipline they can't do together without a saddle and bridle. My mind completely boggles. I can't wait to see the look on Andreas Helgstrands face when our Ozzie bush poet mate pulls off a line of tempi changes and a few canter pirouettes. I suggested we pop Andreas for a feel of Spinabbey bridle-less and saddle-less but Guy didn't think that was such a good idea!" "Guy tells me he wants to be able to do everything from every different discipline. When he sees a movement, he wants to teach to the horse so that he works out which foot needs to be controlled in order to achieve that movement. I'm hoping he'll show us just how to be able to control that foot in such a very precise way, I'm sure he'd love to; he's constantly looking for ways to make it better for the horse, mostly by educating the owners/trainers." "I met Guy at the first Equitana in Melbourne in 1999 when he had his famous stallion Nugget. The horse was lying down – as cool as can be – in a frantically busy warm up arena. I thought that Nugget's submissive confidence was truly amazing until I started to learn what Guy has been able to achieve with a string of horses since – it is nothing short of miraculous!" "To me, Guy McLean is an Australian national treasure and I am very proud to think that he will be part of the All Star Clinic and we can showcase his talents to a wider audience of Australian fans and through this clinic, the rest of the world." Richard summarised by saying, "We are in for some lively entertainment and fantastic insights from this diverse group of experts who have established themselves as the leaders in their chosen field."
Equitana – Excerpt from "The Best Ever"
Pic/Story Berni Saunders www.cyberhorse.net.au/tve
At the half way mark in the competition we were treated to some amazing feats of horsemanship by Guy McLean who rode his gelding Spinabbey. What a combination. It should be noted that Guy's versatility saw him as a major part of every special performance at Equitana. He did his own "Evening with Guy McLean" (my special favourite at Equitana) on Thursday evening. On Friday night he starred in the Western Spectacular. Saturday night he turns his hand to some airs above the ground and high school dressage movements and on Sunday night he was part of the "All Stars Clinic"! Guy and Spinabbey gave us a demonstration of the perfect independent seat … and a rider not using the reins against the horse … or for balance. Guy did half passes, canter pirouettes, flying changes and even a canter backwards all with no saddle or bridle – what a man!
For Event Enquiries and Bookings